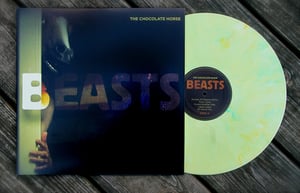 $

9.99 - On Sale
Get your BEASTS colored vinyl today before the 300ct are up.
Beasts will be available on limited-edition colored LP, CD and digital download August 16th.
Side A
01 Escape All Responsibility
02 Fool's Gold
03 Found Another Way
04 Lasso Lasso
05 All About You
Side B
06 Make it up Tonight
07 The Sahara
08 Terrible Lies
09 Characters of Egypt
10 Drive Your Stake
The Chocolate Horse:
Jason Snell – vocals, guitars
Andrew Higley – keyboards, French horn, bowed saw
Paul Brumm – bass, backing vocals, guitar on "Found Another Way"
Johnny Ruzsa – alto flute
Dave Cahill – drums
Joe Suer – vibraphone, keyboards, drums on "Fool's Gold"
Recorded August 2010 – December 2010 at the Stable, Cincinnati, OH; the Masonic Lodge, Covington, KY; and at Andrew's house, Nashville, TN
Engineered by Paul Brumm
Additional Engineering by Jason Snell and Joe Suer
Mixed by Joe Costa at RCA Studio A, Nashville, TN
Mastering by Marc Chevalier at ravensound, Nashville, TN
Cover Photo by Andrew Higley
Back Cover Photo by
Design by We Have Become Vikings
VERY SPECIAL THANKS: Michael Aug, Sara Bedinghaus, Scott Beseler, Darren and James Blase, Austin Brown, Mollie F. Brumm, Carl Buckner, Lisa Cahill, Marc Chevalier, Joe Costa, David Cupp, John Curley, Ben Folds, Mike and Jill Gibboney, Anthony Gilbert, Caleb Halter, Marty McCauley, Charyl Mikles, Ed Rush, Chris Shadler, Jeffrey Smith, Denise Snell, Gillian Thompson, Tom White, Johnny Wirick, Josiah and Liz Wolf, Scotty Wood, and Nicole Zappanti